---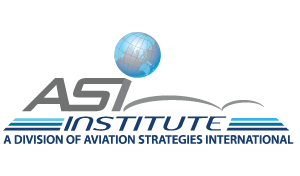 The ASI Institute (ASI-I) is the aviation management competency building division of Aviation Strategies International (ASI). Our mission is to accelerate our clients' performance by providing tailored, objective and empowering services capitalizing on international best practices. With an experienced team of air transportation industry specialists,  educational technologists, and organizational psychologists, ASI-I can offer a wide variety of talent and organizational development services ranging from competency assessment, to classroom-based and online blended learning, to work-based coaching and mentoring, to collaborative learning strategies such as communities of practice.
Aviation Strategies International (ASI) provides assessment, strategic advisory, and competency development services in the field of civil aviation. ASI clients comprise executive leadership groups of airports, airlines, air navigation service providers and civil aviation authorities.
Founded in 1998, ASI operates under the leadership of its President, Dr. Pierre Coutu, and a senior management team vastly experienced in all facets of the aviation industry. ASI's main offices are in Montreal, with regional representations in Beijing, Melbourne, Paris and Ottawa.